Welcome to the online course Fit & Active!
raise your level of fitness and vitality – even at home

motivating exercises for a complete body workout

60 min per week to become as fit as a fiddle

no equipment needed – train where and whenever you want
Do you often feel lazy and ineffective in everyday life? Lack of exercise has a long-term negative effect on your health and well-being. With the certified online full body strength training of the fitbase GmbH, you learn to counter the effects of lack of movement and develop new long-term movement habits. In addition, we will look at widespread myths about training and give you tips on how to buy your training equipment. Take the first step into a more vital and healthier future – with fitbase Fit & Active!
Have fun!
Do you often feel lazy and ineffective? We will get you fit! Motivating workouts for a complete body workout, as well as content, presented easily interpreted, will enable you to integrate movement and activity in your everyday life.

Have fun!
More Quality of life through mindfulnes
With our course you can train the entire body – even without additional weights!
Telephone support for questions or problems
Expert knowledge made easy – proper know-how prepared for everyday life
Motivating whole-body training + helpful tips = fitness + vitality
Mobile, on the PC or on the tablet – All exercises can also be retrieved on the go
Become significant fitter in 8 weeks
The course Fit & Active is for everyone who wants to add more movement to his or her everyday life and to take profit from the benefits of a healthier and more active lifestyle. The content of this course is based on newest scientific findings and was developed by sports scientists.
Because of its certification as a §20 prevention course, on the one hand, this training meets high standards, as well as it gives you the opportunity to get up to 100% of the costs refunded by your health insurance.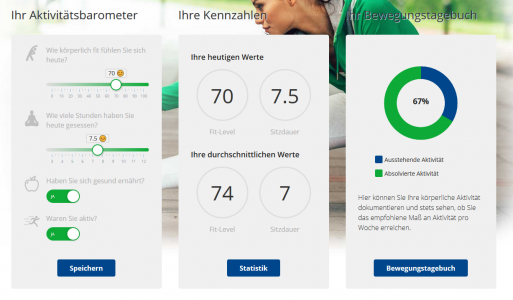 Raise your personal level of fitness

Become fitter in everyday life – for more wellbeing

Expert knowledge made easy – benefit from it!

More vitality and quality in life
The main goal of this course is to build up healthy movement habits, to prevent the negative effects of an inactive lifestyle.
Motivating workouts (also with video) for a complete body workout, as well as content, presented easily interpreted, will enable you to integrate movement and activity in your everyday life.
This course is suitable for beginner and advanced users. Additionally, we will present you strategies to manage with stress, that will also help you to get a better alance between work and private life.
Select from more than 40 exercises

You can train the units step-by-step

Online and world-wide – acces when and wherever

Including relaxation and relief
Individual: You decide when, where and which exercise you train
Each week you will receive an email, containing the new course unit. You can decide by yourself, when and where you want to go through the course units. Additionally, you don't have to complete the whole course unit in one rush, but you can do parts of it in your personal pace. In order to get a better overview about you fitness and activity level, you will have the opportunity of a check up, at the begnning and at the end of the course.
This course will guide you through various themes like healthy and activity supporting habits in your everyday life, cognition of your body, strength and endurance training, relaxation and many more.
Favorite exercises by quick selection

No additional equipment needed, train when and wherever you want

Personal movement and exercise diary

Including equipment tips, workout devices and more
The course Fit&Active is certified by German law (ID: 20170502-918268) and the public health insurances refund up to 100%. Please choose your health insurance and we will show you, how much you can get refunded.
Other fitbase courses at a glance
FAQ – Frequently asked questions
Our partners and references



---