Welcome to Fitbase Online Back School !
Fighting back pain effectively

Motivating video exercises to strengthen your back

Get a healthy back in 60 min. per week

Your favorite exercises in the quick selection
Does your back ache from sitting long? Lack of exercise, unhealthy back support, or stress can be the causes.
In the certified Back health online course of fitbase you gain knowledge about the topic of back health. The course covers 10 units of 60 minutes for each, and can be flexibly adapted to your needs. Each session consists of a part with information, practical exercises for warm-up, a main part with instructed exercise videos on whole body workouts, and a relaxation exercise. Do not miss a unit through the reminder function.
Have fun!
Do you already have back pain or do you want to get active for preventing them? We present you exercises for more strength, flexibility and relaxation to support a healthy back. Your advantage: You can train at home, no deadline pressure.
Have fun!
Improve quality of life with mindfulnes in your everyday life
No more back pain, even when lifting s.t.
Telephone support for questions or problems
Great exercise choice + motivating concept = health!
Each unit is rounded off with a relaxation exercise
First certified online back school (according to the requirements of the Confederation of the German Back Schools (KddR))
Healthy back school – online and convenient
The fitbase online back school is for everyone that wants to prevent future back pain or reduce pre-existing back pain. The content of this course is based on the newest scientific findings.
Because it is certified as a prevention course, the online back school fullfills high quality standarts. You can also get up to 100% reimbursement by your health insurance.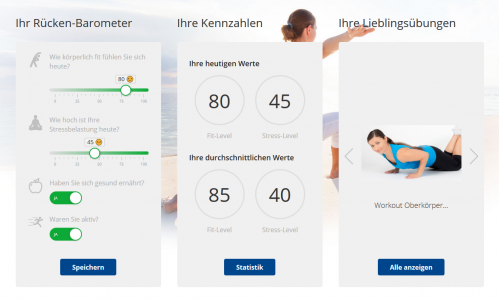 3 steps for a painless everyday life

Based on the newest scientific findings

Recoginze bad postures and optimize those

Stay healthy – prevent back problems
Your way to a healthy back
The main goal of the online back school is to identify bad postures, replace those by integrating healthy movement habits, as well as strengthen the back with appropriate exercises.
Beside the specific training for your back, this course includes relaxation exercises to improve your regeneration. The online back school presents interesting content in different topics like anatomy and composition of the back, body cognition, ergonomics at the working place or the interdependence between stress and back pain.

Every week 1 new course unit, each with a 60 min. duration

High flexibility: Each course unit can be executed individually

Exercises to improve flexibility, strength and relaxation

Back school at home, at the office or to go – no additional equipment necassary
Back school based on your needs
You get an email with the content of each new course unit, every week. You can do these course units the way you want, for example you don't have to pass through the complete course unit, but do just a part of it.
For a better overview, there will be a back check-up at the beginning and at the end of this course.
Personal check up to define your individual back health

Choose your favorite exercises from the quick selecetion

Specific exercises for the lower, middle and upper back

Personal statistics – monitor your progress
The online back school is certified by German law(ID: 20171115-966462) and the public health insurances refund up to 100%. Please choose your health insurance and we will show you, how much you can get refunded
This is how the online back school works
This is how the online back school works

Other fitbase courses at a glance
FAQ – Frequently Asked Question
Our partners and references

---