Welcome to the course mindfulness and relaxation
Exercises for more strength, mindfulness and relaxation

Majority of the exercises available with audio and video

45min. per week for a more relaxed and mindful everyday life

Important expert knowledge – presented understandable
You are looking for ways to encounter your daily (work or private life) stress in a more competent way? We will show you how to stay relaxed and balanced despite time pressure or other stressors. Based on the wheel of awareness you will learn how to acquire a more mindful lifestyle by putting a special focus on your sensual experiences, body perception and the management of thoughts and feelings. You will furthermore get to know how you can relax in an optimal way.
Have fun!
How can I practice mindfulness? We will show you how to stay relaxed and balanced despite time pressure or other stressors.
Relaxed despite daily hassles
Learn how to encounter your daily stress in a more balanced fashion, with effective relaxation exercises for everyday life situations.
With the help of your personal diary you will learn how to think more positively and receive an overview about happy situations.
Support by phone in case of questions or problems.
Informations based on newest scientific findings – presented in an easy-to-read format
Thanks to the flexible concept you can work on the course unit at any point in time.
Mobile phone, tablet or computer – all content is available on all devices.
Mindfulness – relaxed despite daily hassles
In this online prevention course mindfulness and relaxation you will learn how to stay calm and relaxed in everyday life despite any stressors and external influences. This means you will be training to focus your attention on the current moment and thus being able to act in a more conscious way by minimizing any disturbing and stress-enhancing thought patterns. Becoming more mindful also means to increase resilience against stress.
In order to reach this goal you will get to know many meditation and relaxation exercises but also acquire knowledge about the emergence of stress and practical stress management techniques.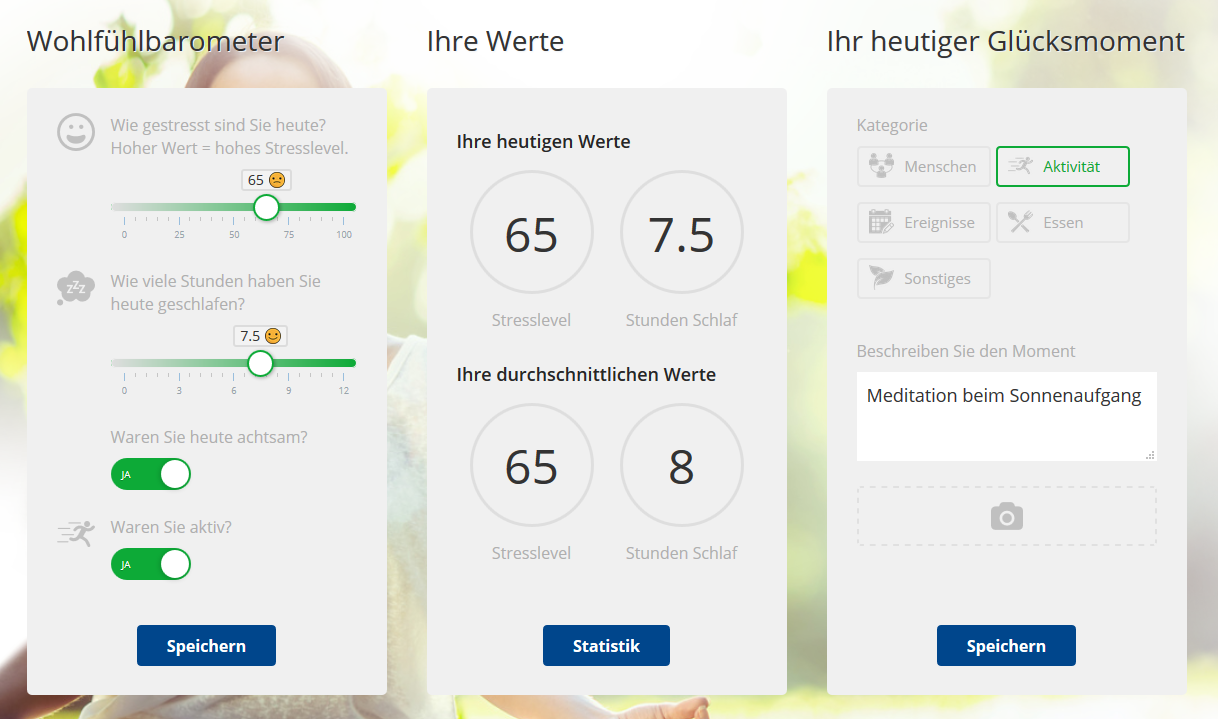 Entspannt trotz (Alltags-)Hektik – durch Achtsamkeitstraining

Erkennen und ändern Sie negative Verhaltensmuster

Werden Sie widerstandsfähiger gegenüber Stress und seinen Folgen

Verbessern Sie Ihre Sinnes- und Körperwahrnehmung für mehr Lebensqualität
How can I practice mindfulness?
The main goal of this course is to reduce stress factors which are disturbing your wellbeing and learn how to approach these in a more relaxed way. You will get to know several relaxation exercises that can help you to feel in balance even in very stressful moments. Due to our practical expert tipps you will get to understand how your body functions and how you can become more resistant against stress. You will be able to improve your quality of life by improving your sensual experiences in the long run.
Additionally, you will be equipped with several tools, as for example your personal happy moments diary, which help you to (re)gain balance and happiness in life.
Meditations- und Entspannungsübungen – überall verfügbar

Belastungen und stressverstärkende Faktoren erkennen und mindern

Individuell&flexibel: Sie entscheiden wann, wo und wie Sie den Kurs nutzen

Persönliches Glückstagebuch, Tipps für den Alltag uvm.
Through mindulness to more serenity
Relaxed and more resistant against stress – by training your mindfulness! Do you sometimes have the feeling that everything is too much for you? In today's fast-paced world it is necessary to lean back from time to time and to focus on your own needs. Learn how to satisfy your own needs of recovery and joy with the help of several video-based meditation and relaxation exercises.
Start now and experience how only 45 minutes per week can help you to become a more mindful and relaxed self.
Persönlicher Gesundheits-Check zu Beginn und Abschluss des Kurses

Werden Sie achtsamer gegenüber sich selbst und anderen

Entschleunigen und mit allen Sinnen genießen – wir zeigen wie

Wohlbefinden, Konzentration und Vitalität steigern – starten Sie jetzt!
This course is certified by German law (ID: 20170803-942484) and the public health insurances refund up to 100%. Please choose your health insurance and we will show you, how much you can get refunded.

Quick and easy registration

Suitable for beginners and advanced users

Download attendance certificate

Submission to health insurance

Quick and easy registration

Suitable for beginners and advanced users

Download attendance certificate

Submission to health insurance
Other fitbase courses at a glance
FAQ – Frequently asked questions
Our partners and references



---