Welcome to healthy nutrition online
Healthy and balanced nutrition – we show you how

Delicious receipes to follow, also as videos

Including personal journal for eating habits

Healthy nutrition in 60 minutes per week
Does healthy and delicious nutrition have to go along with lots of effort and high costs?
We say no!
Nutrition and eating habits are two higly complex topics, but everybody is capable to acquire the necessary skills to change his or her eating habits individually towards a healthy and delicious diet.  In this course you will receive useful information, practical tips as well as recipes to cook at home, presented in appealing cooking videos. In order to monitor your eating habits and to optimize them, you will have access your own, individual journals for eating habits and physical activity.

Have fun!
How do I prepare my food in a healthy way and live a balanced life?
We show you how – useful informations, practical tips as well as recipes to cook at home presented in appealing cooking videos.
Recipes, tips and useful information – presented in short videos
Our holistic concept combines the best of each sector – f.e. integrating the exercise journal
For questions or occuring problems you can phone us
Information based on the newest scientific findings – presented comprehensible
Monitor your eating habits –
with fitbase nutrition journal
PC, tablet or smartphone – content available on all devices
Healthy nutrition in your everyday life
The course healthy and delicious nutrition teaches you what is important to know about this whole topic and how you can put things into practice. The content is based on the recommendations of the german association for nutrition (DGE).
In order to reflect your personal eating habits and get insights in your individual nutrition, you will get your personal journal for eating habits and nutrition. By using it, you will receive feedback to your personal nutrition and eating habits,  at the beginning and at the end of the course.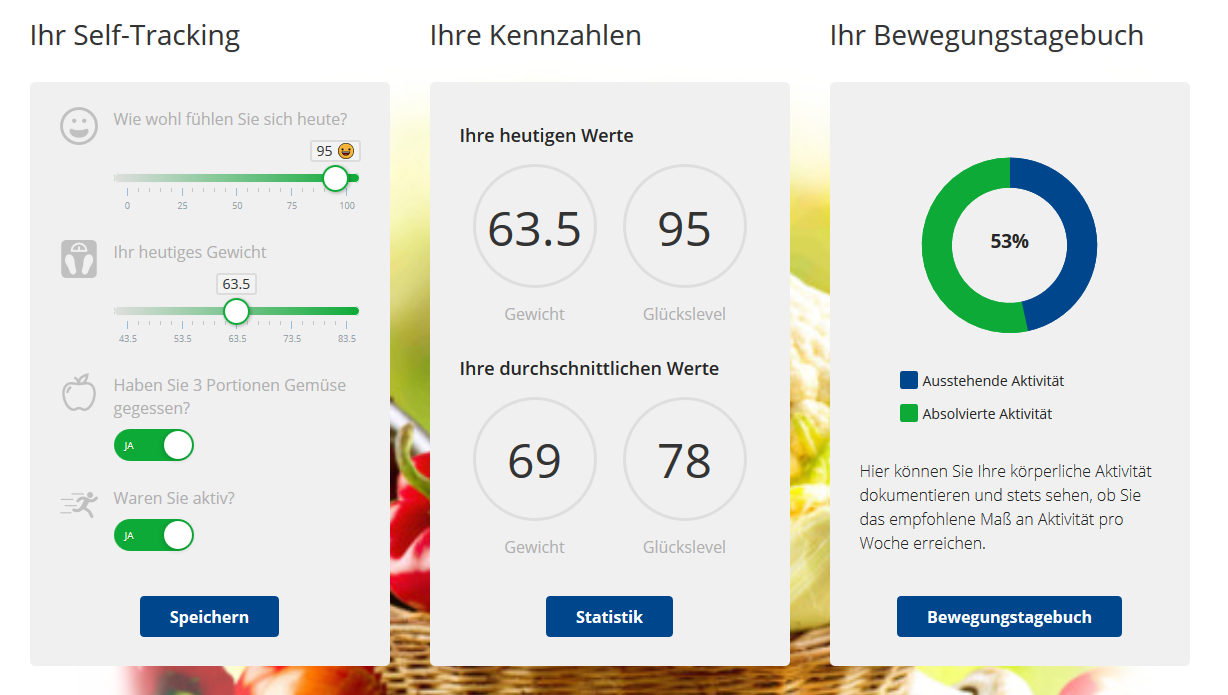 More vitality and wellbeing – by healthy nutrition

Practical tips and hints for your everyday nutrition

Experts knowledge – presented comprehensible

Monitoring and realization of eating habits
How can I change my eating habits?
The main goal of this online course is to impart important information and tips to put things into action, for the topic "healthy nutrition". Every course unit is made of a theoretical part, including important and useful information, as well as a practical part, including tasks to complete. Because it is very important for your health to follow a holistic concept, this course also contains information and practical tips for the topics "workout" and "stress management and relaxation".
Many of those added exercises are also available in audio or as videos. On top of that, 3 new cooking videos will be unlocked every week, so you can always try something new and gain experience for your everyday life nutrition.
Knowledge in nutrition and tips for many recipes

Recipies to cook at home  – also as videos

Including personal nutrition diary

Learn to adapt your new knowledge to your everyday life
Your personal nutrition and eating habits
In order to monitor what has changed since the beginning of the course, there will be a check up to determine your personal eating habits and state of health. Each week, you will receive an email, containing the new course unit. You can decide by yourself when to complete each course unit, as well as whether or not to complete the whole course unit in one step, or do parts of it seperated from each other. Every course unit will have a duration of 60 minutes and all content is available online on every device.
Duration of the course is 8 weeks.
Personal health check up in the beginning and at the end

Including motivating workouts

Informations about nutrients, diet myths and more

Individual, healthy nutrition – to your liking
The nutrition online course is certified by German law (ID: 20170613-929178) and the public health insurances refund up to 100%. Please choose your health insurance and we will show you, how much you can get refunded.
This is how the course healthy nutrition works


Quick and easy registration

Suitable for beginners and advanced users

Finally feel healthy and vital again

Download attendance certificate

Submission to health insurance

Quick and easy registration

Suitable for beginners and advanced users

Finally feel healthy and vital again

Download attendance certificate

Submission to health insurance
Other fitbase courses at a glance

FAQ – Frequently asked questions
Our partners and references

---