Welcome to the fitbase course stress management and relaxation!
Do you experience stress and tension often? Stress is a part of life. For example, when we sit at the dentist or give a presentation. However, stress often arises unnecessarily, and we can learn to prevent this, keep it comfortable, and thus healthier. In the certified online course of fitbase GmbH you will acquire knowledge about stress management and relaxation. Each unit consists of a theoretical part, which is supplemented by application tasks, practical exercises for the adjustment to the health unit, and a final section with relaxation exercises. We will show you how you can effectively reduce stress and get more relaxed in your everyday life.
Have fun!
Welcome to fitbase stress management and relaxation online!
Fight stress effectively in everday life

More than 40 exercises from a variety of sectors

Techniques and tips to deal with stress confidently

60 min. per week for a stressless everyday life
Quality of life through balance in everyday life
Competent against stress – techniques for stress management for everyone
Telephone support for questions or problems
Great exercise choice + motivating concept = health and wellbeing!
Use on all devices with 5 exercise types
Mobile, PC or tablet – all content available on all devices
Stress management and relaxation convenient and online at home

The prevention course stress management and relaxation is dedicated to all those people who want to gain competencies in managing stress and stressful situations to have an even-tempered and balanced everyday life. This course is developed by a team of psychologists and health experts and grounds on the concept "relaxed and confident in stress situations". Because it is certified as a prevention course (§20), on the one hand this course fulfills high quality standarts, on the other hand, it offers the opportunity to get up to 100% of the costs refunded by a health insurance.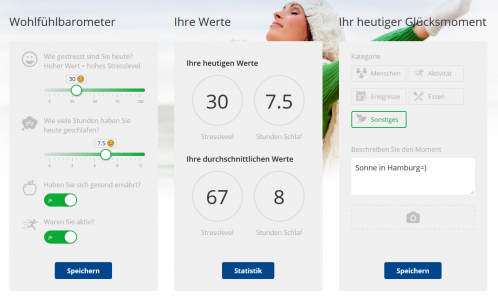 Step by step towards a relaxed everday life

Identify sources of stress

Easy and understandable conzept, based on the expert knowledge of psychologists

Based on the online features, you can reduce stress everywhere
The main goal of this course is to enable you to deal more confident and health-conscious with stress and pressure. This will help you  to reduce or even eliminate the negative results of stress in a preventive way. For optimal monitoring your progress, you have the opportunity to do a test at the beginning and the end of this course, to determine your personal level of stress. The knowledge of experts is presented in an comprehensive and understandable way. Additionally you will get different kinds of exercises, including those for improving your mobility, as well as exercises for relaxation. You can decide when to use these exercises.
Learn how to stay confident and even-tempered in stressful situations

At the beginning and at the end of this course, there will be a test for your personal level of stress

Exercises for mobility, relaxation and meditation, also available with audio

Flexible usage: You decide when and where
Individual and flexible treatment of stress

The fitbase stress management and relaxation course is based on the following three modules: "basics of stress", "competencies in stress management" and "regenerating stress management". For 10 weeks, each week you will face interesting themes, such as stress factors, work life balance, methods and techniques for relaxation, mindfulnes and resilience, as well as reducing stress through physical exercise.
Each week you will receive an email with the new course unit, each unit will have a duration of 60 minutes. You can decide when and where to complete the course unit. It is also possible to do parts of each unit seperated from each other.
A new 60 min. course unit gets unlocked every week.

You decide when to do the exercises

Relaxation in 5 minutes, take adavantage of our relaxtion and meditation exercises

Quick selecetion: Easy access to your personal progress and favorite exercises
This online course is certified (ID: 20171222-975720)  and you can get the costs for it refunded by your health insurance.  Please choose your health insurance and we show you how much reimbursement you can get.
How the fitbase Stress management and relaxation course works

Other fitbase courses at a glance
FAQ – Frequently asked questions
Our partners and references

---